What is the rich-text editor?
A rich-text editor is an interface for editing rich text within web browsers, aiming to reduce the effort for users trying to express their formatting directly as valid HTML markup. The editing is done in a so-called "what-you-see-is-what-you-get" (WYSIWYG) editing area.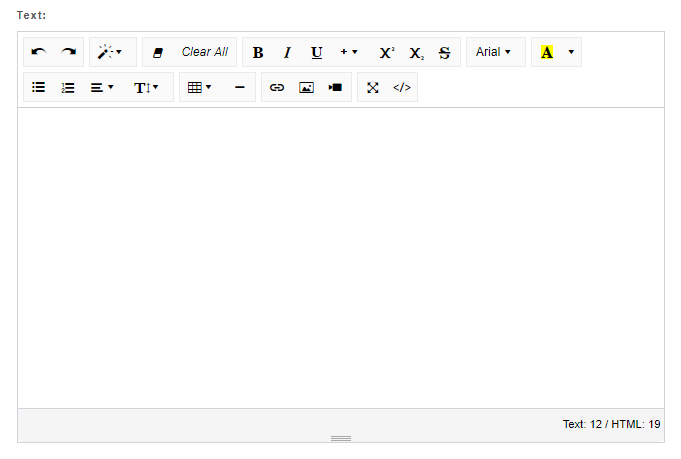 ---
How to use the rich text editor
You can use our rich-text editor to format and style the text that appears on your web page/online shop. The editor possesses some typical features along with a few advanced features:

Undo and redo - text editor provides a way to undo and redo the latest edits (by using undo and redo buttons).


Formatting (style) button - with the Formatting

button, you can quickly create paragraphs, headings, or blockquotes.


Clear formatting - clear formatting or remove font style.


Bold, italic, underline - make text bold, italic, or underline it to emphasize something.


Additional text styles - various additional text styles
Font - to choose which font you are going to use click on the dropdown menu and pick one of the available fonts


Color - to change either text or background color, click on a More Color dropdown button.


Lists - to create an ordered or unordered list click on a corresponding button.


Indentation and alignment - to align text to your preference or to indent/outdent the paragraph, use the Paragraph button.


Table - to insert a table in your page click on the dropdown button Table, and select the number of rows and columns your table is going to have.
*Max number of rows/columns is 10x10.


Horizontal Rule - Insert Horizontal Rule button creates a horizontal line that can split content on your page


Full Screen and Code View - Full-Screen button toggles your editor fullscreen. The Code View button toggles your editor to show HTML code where you can make direct changes to the HTML content.
---
How to insert links to your page

You can insert links (hyperlinks) by following these simple steps:
(Optional) Highlight the text that you want to turn into a link (this text will appear in Text to display field in Insert link window)
Click the Link button (opens Insert link window)


Enter the destination URL for the link in the To what URL should this link go? field
Click the Insert Link button
---
How to upload pictures to your page

In order to upload a picture to your page, you must upload that picture to Media. Learn how to add files to Media.

URL of the uploaded picture now can be inserted into the editor. Clicking on the Picture button will open the Insert image window.

---
How to insert video

To insert video into your page, click on the Video button.

This will open the Insert video window, where you can enter the video URL that you want to insert. Video can originate from various media sources (YouTube, Vimeo, Vine, Instagram, DailyMotion, or Youku).

---
Related topics: