What are email templates?
An email template is a reusable template that is used to build email campaigns. It allows you to add things like images and links to an email and, along with CSS, lets you style the campaign to better reflect our company or personal styles.
Using templates saves time and increases productivity. Templates also keep your emails more consistent. If you were to rewrite the code from scratch for every email, there's a good chance that there would be variations or mistakes in that code - leading to broken emails and a bad experience for your subscribers.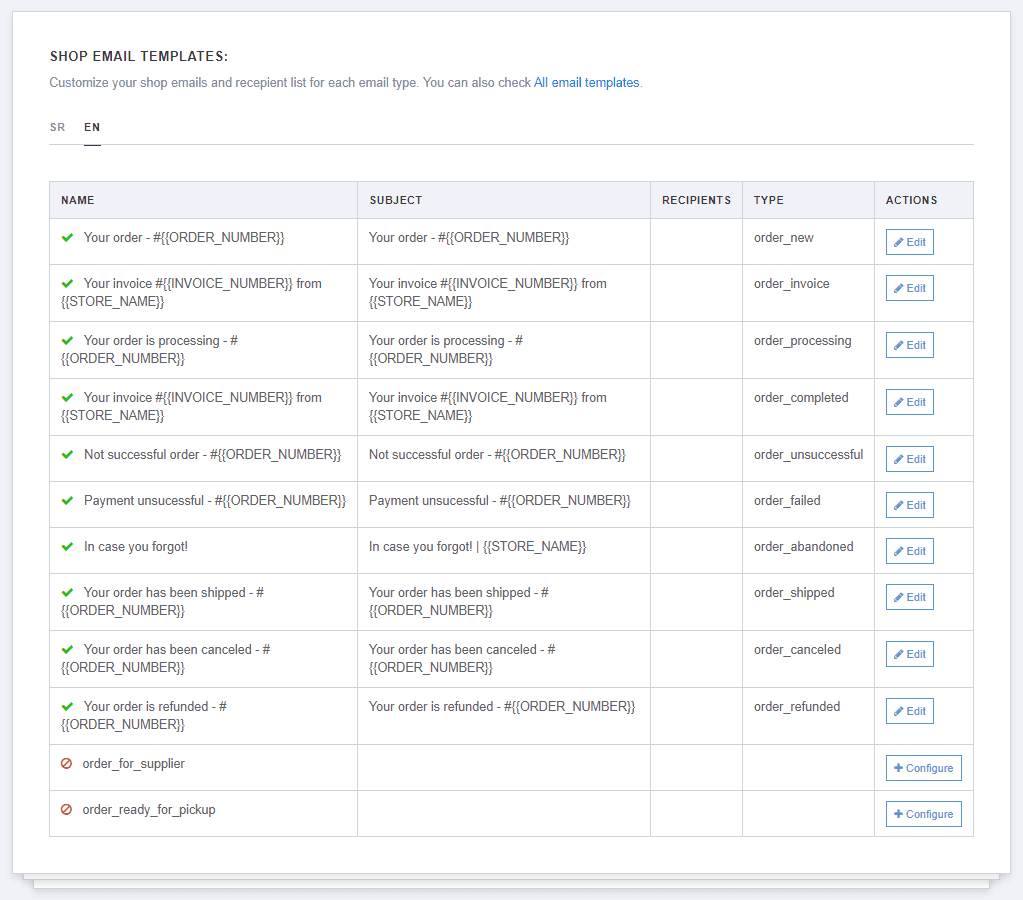 Shop email templates allow you to customize your notification system.
How to customize shop email templates
To customize shop email templates:
Sign in to your ReadyCMS account
Go to the Settings dropdown menu


Click on Shop > Emails in the Settings dropdown menu
In the Shop's email templates table choose the template you want to customize
Click the Edit button that leads you to the Edit page
There you can edit the template name, email subject, and title

In the Recipients text field, you can add recipients to store email.
Learn how to add recipients to store emails.
These recipients can be different employees in charge of different orders or services. So when, for example, a customer receives a no-reply email about an order, another employee will receive a copy via BCC (blind carbon copy). The employee can now track the order and do whatever he was tasked to do.


Tip:
By adding recipients, without changing permissions, you are allowing other user accounts to complete tasks that would otherwise require a higher level of permission.

In the rich-text editor, you can change the HTML code of the email. If you need help with using a rich-text editor, refer to our Rich-text editor manual.



Note:
A Merge Field is a field that you input into an email template that auto-fills value automatically when generating an email for a contact or client.

If the merge field does not apply to the specific email template, it will be removed, but the other text will remain. This is how incomplete or broken automated emails occur.

There are several types of email merge fields implemented: general, store locations, orders & invoices, and account.
If you want to learn more about merge fields, refer to Email merge fields.
After you finish editing, you can see a preview of the email template

Click the Save button to confirm the changes
If you want to learn how to disable automatic emails, refer to the Disabling automatic emails page.
---
Related topics: